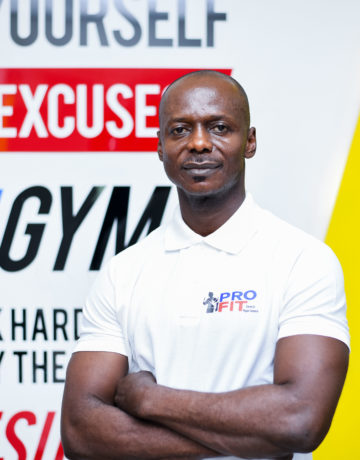 Mr. Daniels Akaniyene Ukpeh
Gym & Aerobics Instructor
Biography:
An Immensely gifted Aerobic / Fitness Instructor with huge background in leading various, appropriate types of aerobic and fitness programmes and activities, including but not limited to: cardio-interval, stretch and flex, dynaband, cardiac fitness, cardio- combo, basic step, step interval, weight training & control.
He holds a National Diploma (ND) in marketing and Higher National Diploma (HND) in Business Administration and Management with different certifications in human resources and management. His love for sport and health industry took him back to study human anatomy and sport management, he also holds a Fitness Diploma (Personal trainer / Fitness Instructor) from New Skills Academy, UK. He is also a certified member of IDEA Health & Fitness Association, USA.
Before joining PRO-FIT Gym & Yoga Center team Coach Dan has popularly called has been working as instructor / trainer for over twelve years, recruiting clients and working with them to achieve their goals and maintain motivation. He has a proven track record in training client (s) on a long-term basis with solid results. He is a dynamic and prolific trainer with experience in swimming, table tennis, football, boxing, personal training, group training and specialize in aerobic and weight loss / weight management, obesity prevention and injury management prevention with solid knowledge of anatomy and exercise physiology.
He is passionate about the fitness and health industry and committed to improving the health and wellbeing of individuals. He approaches his work with a high level of initiative, reliability, empathy and determination. He has outstanding customer relation & very good communication skills and he works well both autonomously and in team environment.